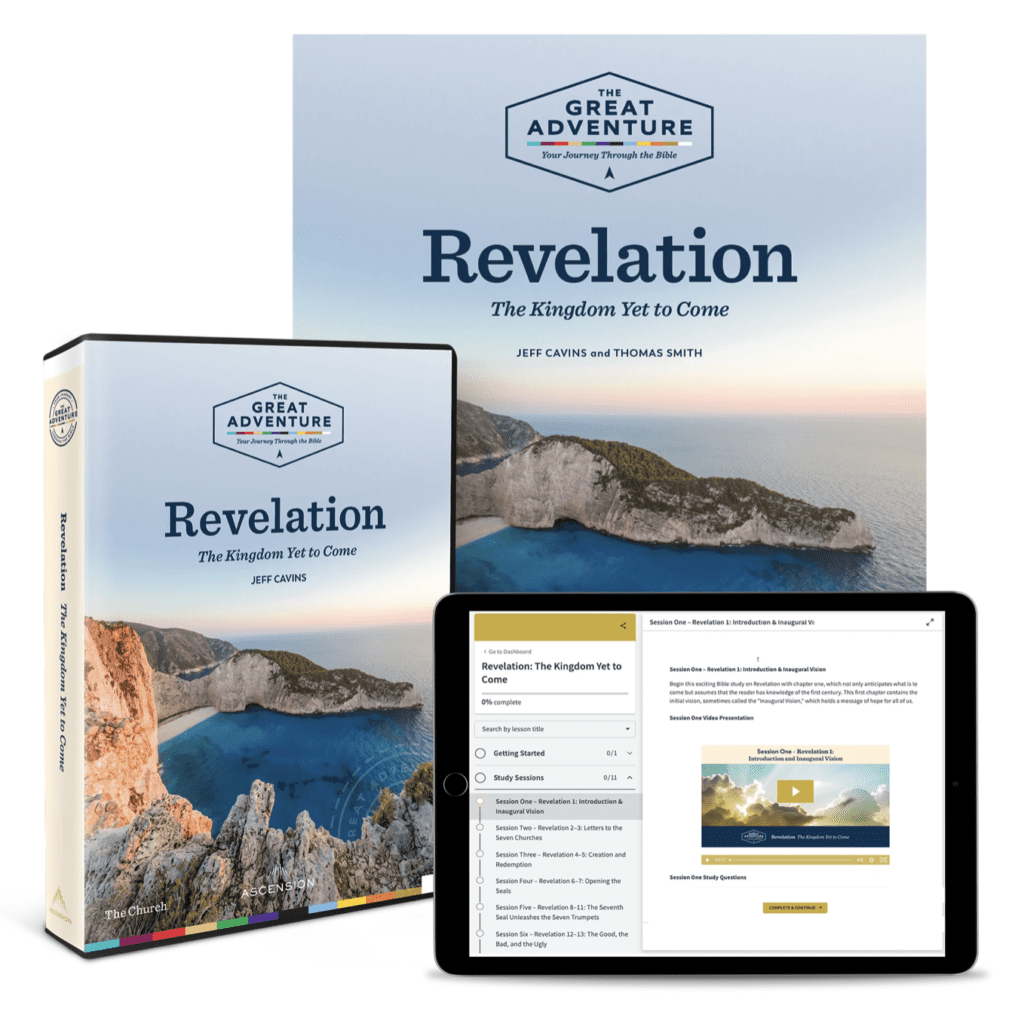 He aquí, yo vengo pronto, y mi recompensa está conmigo para recompensar a cada uno según sea su obra. -Apocalipsis 22, 12
"Behold, I am coming quickly, and My reward is with Me, to reward each one as his work deserves. -Revelation 22:12
El Apocalipsis es un libro que se debe entender, que te llena de esperanza e intriga. Este estudio demuestra como el reino establecido por Cristo en su Iglesia está íntimamente conectado con el reino celestial. Descubrirás lo que las figuras misteriosas e imágenes del Apocalipsis significan. Son una revelación de Dios. La unión de Dios con su Iglesia en un matrimonio sagrado, celestial y místico que nosotros entramos cada vez que celebramos la Misa.
Ven, trae tu Biblia y tu Catecismo de la Iglesia Católica y verás cómo el libro del Apocalipsis es tan relevante en tu vida diaria. El estudio es guiado por el editor general Jeff Cavins de Ascencion Press, The Great Adventure Catholic Bible Study program y el autor Thomas Smith, Revelation: The Kingdom Yet to Come.
Compartamos vía Zoom esta gran experiencia de fe; los martes de 7:00 p.m. a 8:00 p.m. comenzando el 16 de agosto de 2022.  
10 sesiones
Comenzando el 16 de agosto de 2022 y finalizando el 18 de octubre de 2022.
Revelation is the book you want to understand, a book that fills you with hope and intrigue. A study that demonstrates how the kingdom established by Christ in His Church is intimately connected with the heavenly kingdom. You will discover what the mysterious figures and images of Revelation mean. It is a revelation of God. The union of God with his Church in a sacred, heavenly, mystical marriage that we enter every time we celebrate Mass.
Come, bring your Bible and your Catechism of the Catholic Church and you will see how the book of Revelation is so relevant to your daily life. The study is by Ascension Press by general editor Jeff Cavins, The Great Adventure Catholic Bible Study Program and Thomas Smith author, Revelation: The Kingdom Yet to Come.
Let's share via Zoom this great faith experience; Tuesdays from 7:00 p.m. to 8:00 p.m. beginning August 16, 2022.
10 sessions
Beginning August 16,2022 ending October 18,2022
Inscripción - Estudios Bíblicos