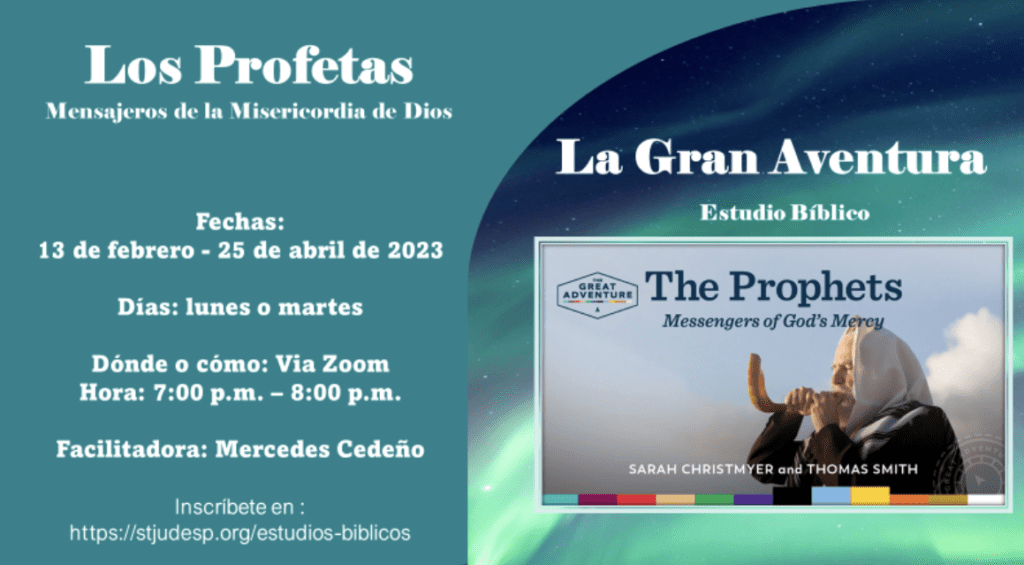 Discover the Messages the Prophets Have for Us
God sent prophets at critical times to call the people back to their covenant relationship. They proclaimed the consequences of continued sin, called people to repentance, and declared God's faithful love. They also spoke of the future to shed light on current events and to reveal God's plans and purposes.
In The Prophets: Messengers of God's Mercy, we will learn who the prophets were, their role during their time, and meaning of their messages for our own time. Discover how God is constantly calling us to a deeper relationship as well as the ways we are called to be the voice of God to others.
This study is by Ascencion Press Catholic Bible Study Program. General author Jeff Cavins and Thomas Smith and Sarah Christmyer author, Prophets: Messengers of God's Mercy
News
Come share via Zoom this great faith experience; Mondays and Tuesdays from 7:00 p.m. – 8:00 p.m. beginning Monday February 13 and Tuesday February 14, 2023
Los Profetas: Mensajeros de la Misericordia de Dios
Descubre los mensajes que tienen los profetas para nosotros
Dios envió profetas en tiempos de crisis para llamar la gente de regreso a su relación de alianza. Ellos proclamaron las consecuencias del continuo pecar, llamados al arrepentimiento y declarar el amor fiel de Dios. Ellos también hablaron del futuro para dar luz a los acontecimientos actuales y revelar los planes de Dios y propósitos.
En Los Profetas: mensajeros de la misericordia de Dios, aprenderemos quienes eran los profetas, sus misiones durante sus tiempos y significados de los mensajes para nuestro tiempo. Descubrir como Dios está constantemente llamándonos a una relación más profunda al igual en las maneras que somos llamados a ser la voz de Dios al prójimo.
Este estudio es un programa de Ascension Press Catholic Bible Study. Jeff Cavins y Thomas Smith y Sarah Christmyer autores de Prophets: Messengers of God's Mercy.
News:
Ven comparte vía Zoom esta gran experiencia de fe; lunes o martes de 7:00 p.m. – 8:00 p.m. comenzando el lunes 13 y martes 14 de febrero de 2023.
Inscripción - Estudios Bíblicos