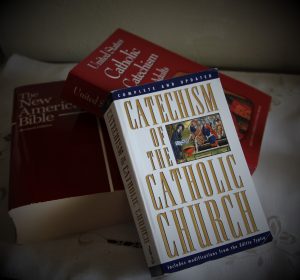 Would you like to learn more about or better understand your Catholic faith?
The Catechism of the Catholic Church is more than a desk reference manual. It contains the summary and explanation of the Catholic Faith.
The Catechism Class will taught by our parish clergy on Wednesdays, 7:00 p.m. – 8:30 p.m via ZOOM. [Click here to learn more about using ZOOM.]
The sessions will be guided by the syllabus(updated), are informal, and questions are encouraged. You will cover the entire Catechism in a year. The four sections for the Catechism are:
The Profession of Faith (the Apostle's Creed)
The Celebration of the Christian Mystery (the Sacred Liturgy, and especially the sacraments)
Life in Christ (including the Ten Commandments)
Christian Prayer (including the Lord's Prayer)
Classes begin September 9, 2020. Registration is required to receive the ZOOM link.
For class sessions, you will need The Catechism of the Catholic Church, a Catholic Bible, the US Catechism for Adults, and note taking materials.
Please contact Charmaine Carter at 727-347-9702 or ccarter@cathedralofstjude.org for more information.
9/9/2020 – Fr. Proulx – History of the Catechism; Man's Capacity For God
9/16/2020 – Fr. Ralph – God Comes To Meets Man
10/21/2020 – Deacon John Carter – I believe in Jesus Christ – The Incarnation
11/4/2020 – Deacon John Carter – The Mystery of the Life of Christ
11/18/2020 – Fr. Ralph – I Believe in the Holy Spirit
12/16/2020 – Fr. Proulx
3/3/2021 – Fr. Ralph – Sacraments of Anointing of the Sick and Holy Orders