The world sees who you are.
God sees who you can still be.
Join Matthew Kelly for a rebroadcasting of his virtual event – an energetic evening of inspiration, music and prayer designed to help you recognize the amazing possibilities in your life!
---
This Advent, join your fellow parishioners for Dynamic Catholic's BEST ADVENT EVER: LET YOUR SOUL SHINE.
Every day during Advent, you will receive an email with a short video from Matthew Kelly and the Dynamic Catholic team.
It's completely free and easy to sign up. Simply click the button below and enter your name and email address. Consider inviting your family and friends to sign up as well.
Want to make 2021 the best year of your life? It begins with a great Advent. So let's all have an amazing Advent, together!
---
A Christmas Gift from your Parish.
This Christmas, Dynamic Parish is providing us with free copies of Matthew Kelly's new book, I Heard God Laugh.
Is Your Life Working?
Most of us are trying to put together the jigsaw puzzle we call life without a very important piece. Over time this becomes incredibly frustrating. In this extraordinary book, Matthew Kelly powerfully demonstrates that we cannot live the life we have imagined, or experience the joy we yearn for, unless we learn to tend the soul. From there, with his classic style of practical wisdom, he teaches us how to remedy this problem.
When our bodies are hungry, our stomachs growl. When our souls are hungry, we become irritable, restless, confused, overwhelmed, exhausted, anxious, discontent, and tend to focus on the things that matter least and neglect the things that matter most.
Are you taking care of your soul? Are you feeding it and nurturing it? Or are you ignoring it and neglecting it? The reality is, most people have never really been taught how to tend their souls. I Heard God Laugh will help you to do just that, and so much more.
If you ever wondered how Matthew Kelly has been able to write and speak the way he has over the past three decades, he is about to share his secret with you. As he shares what transformed his life, along with intimate details of his own journey and struggle, he teaches us how to apply the great spiritual lessons learned to our own lives.
At every turn he floods the reader with hope and demonstrates unmistakably that the best is yet to come!
Be sure to pick up your copy this Christmas from the Cathedral of St. Jude this Christmas.
---
SMALL FAITH SHARING GROUPS
SMALL FAITH SHARING GROUPS are small communities within our larger parish community. Together we read, study, and share God's graces. We spur one another on in our journey of Faith.
Small Faith Sharing Groups will read and study the book I Heard God Laugh together beginning the week of January 10, 2021. Consider joining a Small Faith Sharing Group.
---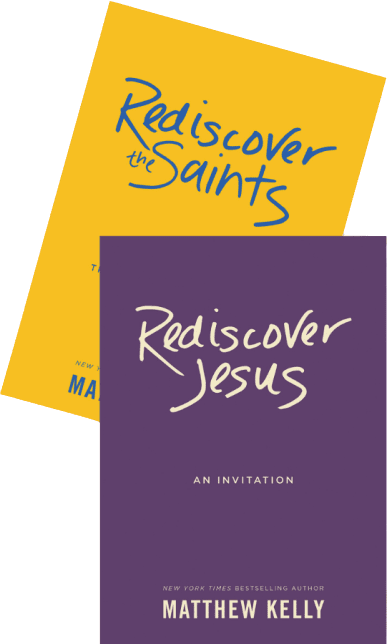 Mission: Dynamic Parish is a collaboration between our parish and Dynamic Catholic which invites everyone to rediscover Jesus, the beauty of Catholicism, and the commitment of our parish community to love and serve each other. Together, we meet people where they are and point them to where God is leading them. We learn what helps the parish grow and what does not. And we will share what we learn here in this parish with every parish in America.
With God's grace and guidance, something incredible is going to happen.
Over the 5-year partnership, Dynamic parish will provide our parish with resources and experiences proven to deepen our connection to God and to each other, beginning with an invitation to start dreaming for ourselves and for the life of the parish
Each year will focus on one of the four life-changing habits: Prayer, Study, Generosity, and Evangelization.
God will transform every parish into a dynamic community by starting with one person at a time. The vision of Dynamic Parish suggests that if enough parishes engage in this transformation, not only will parish life in America be better, but it will change the world.
Point of Contact: Charmaine Carter through the Cathedral Office 727-347-9702 or ccarter@cathedralofstjude.org
---
---
Dynamic Parish Resources:
---
Starting Point (Baptism):
Blessed (First Reconciliation):
Blessed (First Communion):
Decision Point (Confirmation):
Better Together (Marriage Preparation & Enrichment):
Other Dynamic Catholic resources that are not specifically part of Dynamic Parish, but some parishes choose to share are: