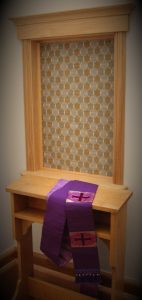 Therefore, confess your sins to one another and pray for one another, that you may be healed. The fervent prayer of a righteous person is very powerful.

James 5:16
The Sacrament of Reconciliation is also called the Sacrament of Penance. It is a sacrament of healing and peace. It is the opportunity for spiritual healing and absolution when we have become distanced from God by our sins. Through this sacrament, we are restored to right relationship with God.
Reconciliation is available in the Cathedral after the 11:00 a.m. Mass Mondays through Fridays and at 2:30 p.m. on Saturdays.
For a Short Guide to the Sacrament of Reconciliation Click Here
---