Mass
Times
Today:
8:15 AM & 11:00 AM
Thursday:
8:15 AM & 11:00 AM
Confession
Times
Monday – Friday:
After 11:00 AM Mass
Saturday:
2:30 PM
Upcoming Events
Confession

Confessions take place outside the church under the portico on the Tyrone Ave side of the Cathedral. Please enter through the Cathedral.

RCIA

RCIA classes are open to anyone who is interested in Catholicism and desires to learn more about the Catholic faith. By completing the RCIA program, the individual may make the decision to be baptized and confirmed Catholic.

Classes will be via ZOOM. Please contact Charmaine Carter MD, MTh via email at rcia@cathedralofstjude.org or call the parish office at 727-347-9702 for the ZOOM link.

Catechism Class

The Catechism of the Catholic Church is more than a desk reference manual. It contains the summary and explanation of the Catholic Faith.

The Catechism Class will taught by our parish clergy on Wednesdays, 7:00 p.m. – 8:30 p.m via ZOOM.

The sessions will be guided by the SYLLABUS, are informal, and questions are encouraged. You will cover the entire Catechism in a year. The four sections for the Catechism are:

The Profession of Faith (the Apostle's Creed)
The Celebration of the Christian Mystery (the Sacred Liturgy, and especially the sacraments)
Life in Christ (including the Ten Commandments)
Christian Prayer (including the Lord's Prayer)

Classes begin September 9, 2020.

For class sessions, you will need The CATECHISM OF THE CATHOLIC CHURCH, a CATHOLIC BIBLE, the US CATECHISM FOR ADULTS, and note taking materials.

CLICK HERE to register for the Adult Catechism class.

Please contact Charmaine Carter at 727-347-9702 or CCARTER@CATHEDRALOFSTJUDE.ORG for more information.
View All Events
Our News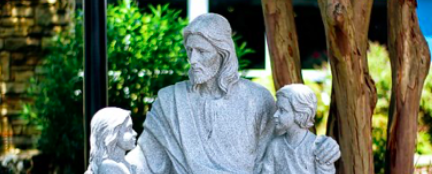 ATTENTION: Children PK – 5th grade
Our Children's Faith Formation Program (FIRE) begins this Sunday, September 20! Your child's faith formation is very important to us and we are excited to offer the online platform Catholic Brain this…Read More
View All News