Mass
Times
Today:
8:15 AM & 11:00 AM
Friday:
8:15 AM & 11:00 AM
Confession
Times
Monday – Friday:
After 11:00 AM Mass
Saturday:
2:30 PM
Upcoming Events
Bible Study - Year 1

This Bible Study class is intended for beginner and intermediated students who desire to read and study the Bible, but do not know where to start. This Study will use the Catholic Bible, the Come and See Catholic Study books, and the Catechism of the Catholic Church. The Little Rock Study Bible is recommended, but any Catholic Bible is fine. All books will be available at the Cathedral Bookstore and Welcome Center.

The goal of this class is to read and study the entire Bible one book at a time.

This is the year 1 - freshman class. This year we will read and study Genesis through Ruth. We meet weekly on Thursday evenings from 7:00 p.m. to 8:30 p.m via ZOOM. Classes begin August 17, 2020.

Please contact Charmaine Carter at 727-347-9702 or CCARTER@CATHEDRALOFSTJUDE.ORG for more information.
View All Events
Our News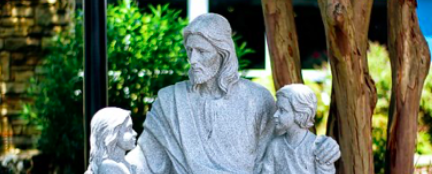 ATTENTION: Children PK – 5th grade
Our Children's Faith Formation Program (FIRE) begins this Sunday, September 20! Your child's faith formation is very important to us and we are excited to offer the online platform Catholic Brain this…Read More
View All News