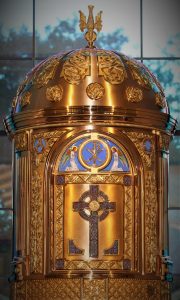 The word sacrament means a sign of the sacred. Sacraments are outward signs used by God to show us His grace. The sacraments are celebrations that mark our journey of Faith and deepen our relationship with God. They confer graces which help us to live out a life in Christ.
There are Seven Sacraments of the Catholic Church.
The sacraments of initiation into the Body of Christ are Baptism, Confirmation, and Eucharist.
The sacraments of healing and peace are Reconciliation and Anointing of the Sick.
The sacraments of vocation are Marriage and Holy Orders.
---