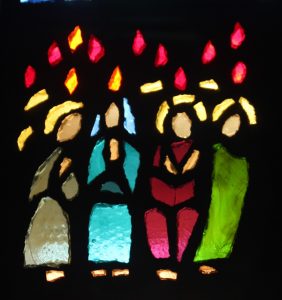 [Paul] said to them, "Did you receive the Holy Spirit when you became believers?" …And when Paul laid [his] hands on them, the Holy Spirit came upon them…

Acts 19: 2, 6
Confirmation is one of the three Sacraments of Initiation along with Baptism and Holy Communion. Through the Sacrament of Confirmation, the individual receives strengthening of the Holy Spirit as he continues the journey of Faith with Christ. At Confirmation, the individual renews his baptismal promises by making a Profession of Faith, and his covenant relationship with God is deepened. Though the sacrament of Confirmation, the person receives the seven gifts of the Holy Spirit: wisdom, understanding, counsel, fortitude, knowledge, piety, and fear of the Lord and an indelible mark is placed on the soul.
Confirmation preparation is provided for teens through our Youth Ministry. Click here for more information.
If you are over 16 years old and have been baptized but have never received the sacrament of Confirmation, The Cathedral of St. Jude the Apostle offers classes to prepare adults for Confirmation. Click here for more information.
---