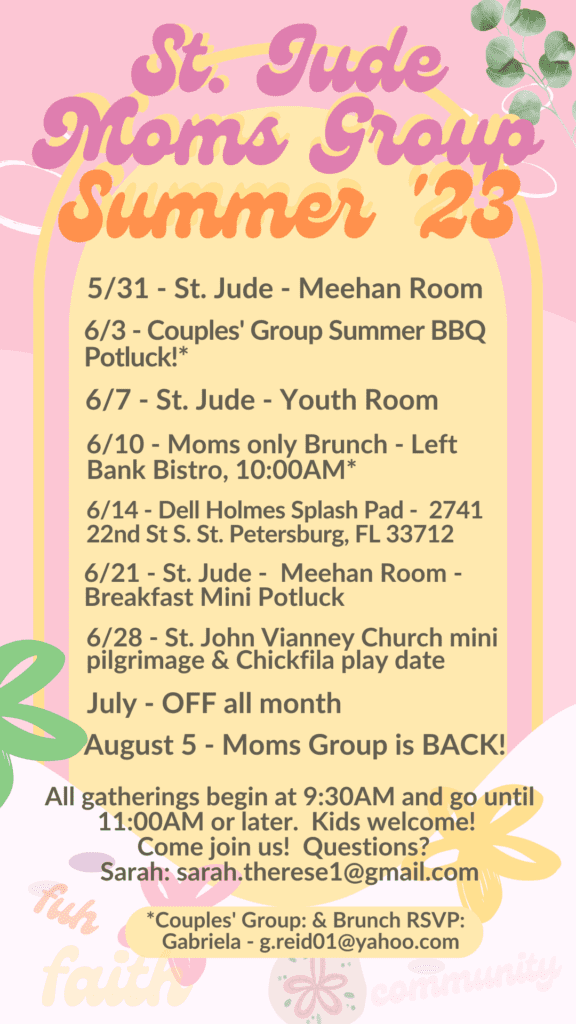 Mission: Moms Group seeks to build community among moms with young children to support and encourage one another. We believe that motherhood is beautiful and challenging, and no one is meant to go it alone. Not a perfect mom? Neither are we! Yet we are seeking holiness for ourselves and our families amid the chaos!
What do we do: We meet weekly to reflect on the upcoming Sunday's Gospel, share our highs and lows of the week, and support each other in prayer and friendship. We also meet for planned and spontaneous park meet-ups, moms' brunches/dinners, and other adventures together. We serve the community when needs arise (i.e. meal trains for mamas, meals for the youth ministry, supply drives for pregnancy centers), and hold an annual Advent Women's Retreat open to all women. Many of us also participate in the Couples' Dinner group on the last Saturday of most months.
Membership: Open to all moms with young children (from pregnancy and beyond!).
Meetings: We meet weekly on Wednesdays from 9:30-11:00AM in the Meehan Room, accessed through the Parish Office. Some attend the 11:00AM Mass after. Your kiddos are welcome to attend!
Training/Preparation: None.
Point of Contact: Sarah Williford through the Cathedral Office at 727-347-9702 or sarah.therese1@gmail.com